Instead of making single profile topic that each topic will end up to page 2 or make all character profile topic and the topic will end up to page 3.
I'll merge them together.
I'll be making Kasumi & Ayane profile, I'll try and get as much details as possible. And as for the background and tournament descriptions. I won't make anything up like Wikipedia or other sites. I'll simply type out the things I read from the manual and game, and some logic that makes sense.
---------------------------------------------
KASUMI
art by Ryu Form Site
AKA
: Runaway
Shinobi
Ninja (Runaway Ninja), Kunoichi Of Destiny, Princess
Age
:
Unknown
17
Birthdate
: Febuary 23
Height
: 5'2"
Weigh
t: 106 lbs.
Measurements
: B-34, W-20, H-35 in.
Nationality
: Japanese
Blood Type
: A
Style
: Mugen Tenshin Ninjitsu (
Tenshin
Tenjin Mon Sec)
Job
: Fortune Telling, Nukenin
Likes
: Strawberry Millefeuille, ribbons
Hobbies
: Fortune Telling, Origami
Character Connection
: Ayane, Hayate
Relation
: Loves Hayabusa
Debut
: DOA Arcade
BACKGROUND
: Daughter to Shinden (father) and Ayame (mother), and little sister to Hayate in the Mugen Tenjin Mon sect. Everyone's favourite little princess is Kasumi, she regularly plays with Ayane who everyone dislikes. While away from home one evening with Shinden and Ayame, Raidou, Shinden's brother- the blood thirsty fighter, invaded the Tenjin Mon Sect demanding for the Sky Torn Blast technique. Kasumi learnt that it was Raidou who crippled his brother, while treating his wounds, she thought about the consequences she'll face for the decision she's about to make the next day. Hayate was to be the new leader of the Tenjinmon, but because he was crippled at that time, the promotion will go to Kasumi. She knew about this, and fled the sect in order to avenge Hayate's crippler. Thus granting her the title Runaway Shinobi, coming close to her journey. She heard of a tournament called Dead or Alive hosted by DOATEC, and Raidou was part of the world champion fighters (who ranks above others).
TOURNAMENT
:With the aid of Hayabusa in the tournament, Kasumi eventually defeated Raidou (no confirmation whether she killed Raidou). Kasumi wanted to return home, but she was not allowed, everyone called her not just a nukenin, but also a traitor. She found out that Hayate went looking for her but no one heard anything whether he found her or not. Once again Kasumi sets out in another Adventure looking for Hayate, clues leading to her journey was that someone who looks like Hayate was in the tournament. (or not, she feels that Hayate might be looking for her in the next tournament because she participated in the first tournament).
Kasumi met a fighter that looks exactly like her, a Clone created by DOATEC who was not finished in development, eventually she managed to defeat the clone. While ranking up, she came across Ayane, the girl she used to play with at a young age but unfortunately has a grudge against between each others hate while they grew up. She did defeat Ayane, standing before her in the higher ranks was a fighter looking just like Hayate. Kasumi was really confused if that was Hayate her brother or someone pretending to be.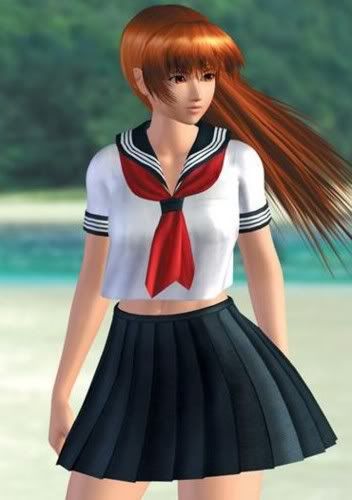 One of Kasumi's costume, this was an outfit she wore during school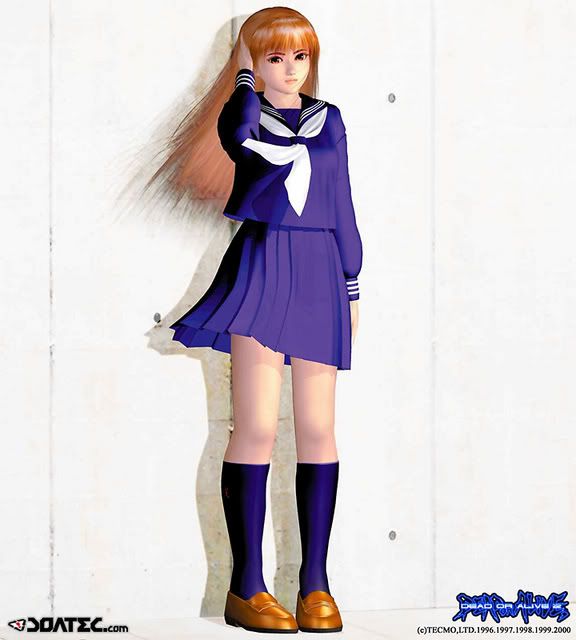 Outfit she wore during higher education.
OTHER INFO
: Kasumi loves Ryu Hayabusa from the Hayabusa clan, and she's a soft hearted Kunoichi. Rather than being everyone's little princess in the Tenjinmon village, she's friendly with nearly all the fighters who took part in the DOA tournaments.
------------------------------------------
Ayane
art by Ryu Form Site
AKA
: Female Tenju, Prodigy, Kunoichi with Murderous Intent
Age
:
Unknown
16
Birthdate
: August 5
Height
: 5'2"
Weigh
t: 104 lbs
Measurements
: B-37, W-21, H-33 in. (B-93, W-54, H84 cm)
Nationality
: Japanese
Blood Type
: AB
Style
: Mugen Tenshin- Hajinmon Ninjitsu (Hajin Mon Sec)
Job
: Kunoichi
Likes
:Marrons Glaces, butterflies
Hobbies
: Beauty Treatment, Aesthetics
Character Connection
: Kasumi
Relation
: Helena
Debut
: DOA Arcade
BACKGROUND
: Half sister to Kasumi and Hayate, Ayane is the result when Raidou raped Ayame one evening while Shinden was away from home. Everyone in the village looked down upon Ayane as a bastard and unwanted child. She regularly plays with Kasumi and has a crush on Hayate while they were infants. Genra (leader of the Hajinmon Sect) saw Ayane's uniqueness and background, he took pity on her, and announced to all the Sec that he'll take Ayane and she'll now be part of the Hajimon Sec, and she'll be assisting the Tenjinmon Sec from the shadows. From this point on, she knew she wouldn't get close to Hayate again nor Kasumi.
Before leaving the village, Ayame confessed to Ayane that she was her mother and had abandoned her, basically telling her the whole story while Hayate took Kasumi out for a
bonfire
fireworks night.
Absorbing so much from her past, the judging from the village, cursing, hating and neglecting. Ayane decided not to make her past her burden, forget all about it and just live it on. She was then confident to become a true Kunoichi, thus having the murderous intent listed on her. This was how the jealousy started, how she was the half sister to Kasumi yet everyone called her a princess and adored her while she was left out and became the hated version.
Her first duty at the age of 14 was to assist Murai who was the leader of the Shadow clan far away from the Mugen Tenshin clan. She delivers messages and notes to whom Muria sends her to. From this point, she was linked to another clan that connects to the Shadow Clan, the Hayabusa clan. From here on is how Ayane got to know Ryu Hayabusa, but her duty for helping Ryu throughout his adventure between the Dark Dragon Blade incident, Archfiend incident and the
spoiler
incident are unknown.
Later in life, she trained under the master of Hayate, though she doesn't have any crush with him. One night while training with Hayate, brother of Shinden, Radiou, invaded the village seeking the Sky Torn Blast technique. Radiou defeated both Ayane and Hayate and walked out the village learning the powerful ninpo technique.
One of her Costume she wore in Ninja Gaiden Sigma 1 & 2.
Ayane didn't want Hayate to look out for Kasumi, since she abandoned the village to seek revenge. (it is unknown whether Hayate & Kasumi knows that Ayane is part of their family).
Ayane found Kasumi participating in the DOA Tournament, she didn't join but observed what she was doing (same thing Kasumi did, she observed Ayane's work while she watches from the shadow *ref to Ninja Gaiden Sigma 2*).
Feeling lost when she saw/found out that Kasumi killed her biological father Raidou, DOATEC captured Hayate during his journey. After returning home, and hearing that Hayate hasn't returned home and Kasumi also visited the village once again. Genra gave Ayane order to assassinate Kasumi. Ayane sets out on a journey to find Kasumi, she learned that she might be in the DOA2 Tournament and decided to join in the game.
Ayane enjoyed the moment her next fight was with Kasumi, as she deeply hates her. Fighting with so much anger and hate, was what caused Ayane to loose sight and was defeated by Kasumi, even though she tried to use one of her technique ninpo she was taught. During the tournament, Ayane came across a fighter who looks just like Hayate or pretending to be him. Because the fighter known as Ein had amnesia, Ayane and Ein had no choice but to fight.
One of Ayane's costume in Dead Or Alive 2 Ultimate for the XboX, Ayane in disguise as one of the workers of DOATEC.
Ayane's school outfit
OTHER INFO
: There's some sort of connection between Helena and Ayane. Ayane knows something about Helena or knows something about Helena that she doesn't know. That is why Ayane taunts Helena about her mother during the DOA2 tournament.
This message has been edited. Last edited by: xino,